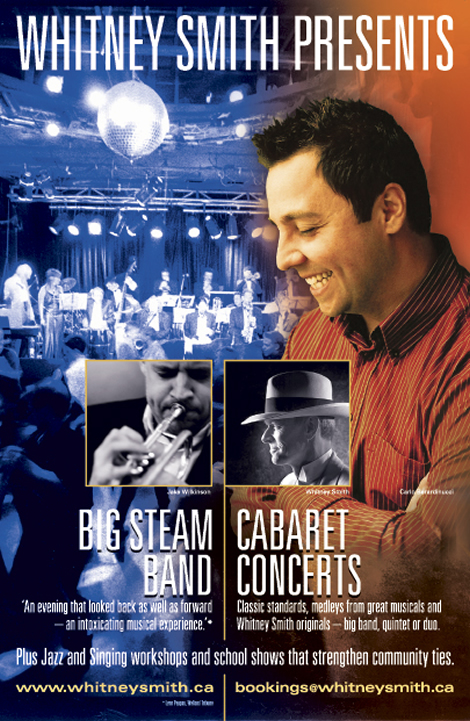 We are offering two shows for clubs and concert halls —
Whitney Smith SWING HOUSE
featuring Carlo Berardinucci and Jake Wilkinson
&
Whitney Smith & Carlo Berardinucci: The Cabaret Concert.
These two shows are built around two new elements: the singing talent of newcomer Carlo Berardinucci, great jazz standards and Whitney Smith originals, and three medleys from the three musicals — Showboat, West Side Story, Sondheim's Sunday in the Park with George.
These medleys speak briefly to the development of the American musical theatre through the career of Oscar Hammerstein, II, book writer and lyricist of Showboat, and his prodigy Stephen Sondheim, lyricist of West Side Story and composer/lyricist of Sunday in the Park with George.
This may sound like a lot of territory to cover in a 100 minute show. Yes it is, but it also gives our musical show some structure — a skeletal theme around which we can hang the songs that have inspired us as jazz musicians. Plus, as a composer and lyricist Whitney can talk about the inspiration he has received from songs that have emerged from the stories and characters in the great American musicals.
Repertoire from the musicals includes: SHOWBOAT — Ol' Man River, Why Do I Love You?, Can't Help Lovin' Dat Man; WEST SIDE STORY — Tonight, America, Somewhere; SUNDAY IN THE PARK WITH GEORGE — Lesson #8, Beautiful, Putting it Together.
The standards in our repertoire might include any of the following:
After You've Gone
Almost Like Being in Love
Bill Bailey
But Not For Me
Bye Bye Blackbird
Charade
Chicago
Come Fly With Me
Indiana
Just You, Just Me
Lover, Come Back To Me
Mack the Knife
On the Street Where You Live
Pennies from Heaven
Saturday Night is the Loneliest Night of the Week
Sometimes I'm Happy
St. Louis Blues
Summer Wind
Sweet Lorraine
Way Down Yonder in New Orleans
Witchcraft
Love Me or Leave Me
Whitney Smith songs include (all available for hearing on www.bigsteamband.com):
Drift and Misery

Goodbye, Lonesome Beauty

I Will Not Love

My Reason Why

Paradise of Lime and Coal

Pot of Tears

Rosealea

This House
Finally, in our shows with Carlo, whose parents were born in the Naples and Calabria areas, he always sings one Italian folk song that has great meaning to him. When he sings this song he refers to the tradition of well-known male popular singers of Italian descent — Frank Sinatra, Tony Bennett, Dean Martin, Bobby Darin — who all appear to have benefited from the bel canto (beautiful singing) vocal technique, which originated in Italy during the late sixteenth century and reached its pinnacle in the nineteenth century during the Bel Canto opera era.
For information and availability please contact us.