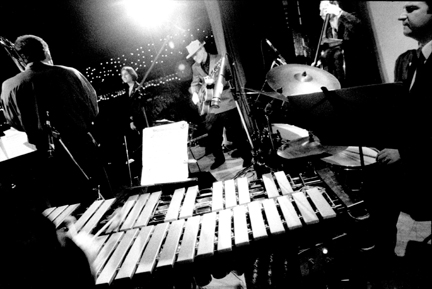 About Our Concerts
"We have received nothing but compliments on your performance from the audience and personally I felt it was a great show with a distinct brand of big band music not often heard any more."
- Peter Tulloch, Oakville Jazz Festival
"This band of 17 young, energetic musicians will do anything to please — and please they do! Even before reaching the end of their opening number the audience was applauding enthusiastically. At intermission, everyone was all smiles; it was a forgone conclusion that there would be a standing ovation at the end. Michele Doyle's voice was awesome — warm and furry or sexy and slinky — as needed. Sprinkled throughout the program were old jazz and swing standards, but if they didn't tell you that the rest of the tunes were written by Whitney, and arranged by various members of the band, you would be sure that they were old Dorsey or Ellington tunes that you had forgotten. Wonderful!"
— Peter D. Smith, General Manager, Imperial Theatre, Saint John, New Brunswick
"I love Whitney's personal compositions — some of the tunes are still hanging around in my head — and deserve to become standards. The variety of styles was amazing!"
— Judy Amesbuy, Performing Arts Lakefield
"The whole evening was transporting — it was sophisticated, cool and stylish. I felt I was in another place and time, We all began to dance: men, women, together, apart. The band moved in harmony, they looked like a painting come to life and come to sound."
— Karen Mulhallen, editor, Descant Magazine
About Our Corporate Events
"Thank you for helping to make our Gala & Awards banquet such a great success. We heard many compliments during and after the evening. Many of our guests had never heard this type of band live before. The music, the talented singers made our guests feel that they had really been transported "back-in-time" which was our goal. We knew we made the right choice just a few seconds after the curtain opened and the band started to play."
— Laureen M. Rennie, CIBC Mortgages Inc., Toronto
"Whitney Smith is kind, fun and extremely knowledgeable. We were impressed by the care and attention to detail that he took in our event. Planning it was a delight and we have absolutely no trouble recommending him for any function."
— Caroline Sadlowski
Email us for a list of our corporate clients.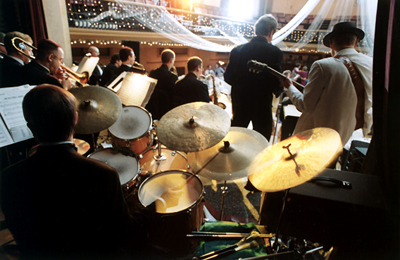 About Our Music for Weddings
& Other Special Occasions
"Whitney Smith's band brought a sophisticated, beautiful jazz mood to the Brewers Plate. The music was a perfect fit with our hip urban crowd. Professional, attractive, and great musicians!" — Chris Lowry, Green Enterprise Toronto, April 2009

"What a superb band -- their flexibility, their diversity, their capacity to form and re-form as different combos, it made us feel as though we had thirty musicians in the house that night, though we only had five. Consummate professionals and virtuoso players, I'd recommend the band to anyone." — Cory & Alice, October 2008
"Weddings are stressful but our event was much more relaxed thanks, in part, to the hard work of Whitney's band. They accomodated all our requests, providing background music during cocktails and dinner and wonderful swing when we were ready to dance. And the highlight of the evening (besides the "Haunted House Wedding March") was a very swinging horn!" — Roz & Gord, October 2008
"Whitney Smith and his band really made our wedding great. Whitney carefully selected the music with us, designed beautiful arrangements, and set the mood perfectly from the ceremony to the last dance. When the band plays, it's obvious that they love what they do, and go out of their way to make everything sound perfect." — Ryan & Melissa, June 2007
"Electric Steam was the backbeat of our wedding and everyone danced the night away — even during dinner!. All of our guests loved the music and Whitney did a great job of reading the crowd. Kathleen and Carlo were both amazing!" — Christina & Roman, July 2007
"Music was such an important element of our wedding – we wanted something different, something timeless, something unforgettable. And from the minute we met Whitney with his enthusiasm and bursting creativity and heard the incredibly talented swing band, we knew we had made the right choice. They set a lovely tone and added invaluable ambience to our evening. From the mellow jazz and bossa nova they played for cocktails to the upbeat swing after dinner to the dance tunes in the late evening, they gave us and our guests an incredible show. Their versatility, artistry and ability to read the crowd was amazing. They helped make our wedding truly magical!" — Michelle & Jay, July 2007
Look here for the dance music repertoire of the band our clients are talking about, ELECTRIC STEAM — from Latin, pop, swing, funk, soul, R&B to rock'n'roll, and everything else that creates a frenzy on the dance floor.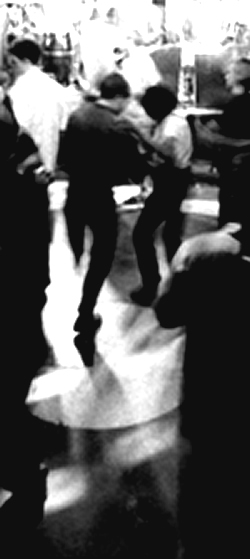 Media Reviews on Big Steam Band concerts
Jazz Concert a Blast!
By Lynn Peppas, Welland Tribune, March 7, 2005

The synergy of remarkable jazz talents could hardly be contained in the ample J. M. Ellis Auditorium past Saturday evening as the Whitney Smith Big Steam Band performed the Welland-Port Colborne Concert Association's fifth show of the season. The jazz concert was a blast of complicated melodies, provocative beats and rhythms, and highly romantic lyrics that was almost impossible to sit still through. Big Steam Band trombonist, Colin Murray, appropriately introduced the band and tickled the audience with his humourous anecdotes about growing up in Welland because, surprise-surprise, Murray was born and raised in this fair city.
Not only is he a talented musician, Murray is also a natural humourist, who introduced bandleader Whitney Smith as "part madman, part genius, and part cocker-spaniel." In the "genius" respect, Murray hit the right note. Smith and his band exude a pure jazz ingenuity, and exemplify the consummate energy and intuition of seasoned jazz musicians. The project was a heady compliment of original music mixed with jazz classics. The combination of old and new was perfect. The old classics evoked personal, and I'm sure passionate, life-long memories. Who among us cannot be moved by the romance of songs like "I've Got You Under My Skin" and "Witchcraft"? Add to that the delightful discovery of the contemporary jazz lyrics and intricate compositions of Smith's original jazz tunes, and it was an evening that looked back as well as forward, and as such, was an intoxicating musical experience.
From the first note on, the band proved why they are one of the finest and most sought out big bands in the world. The 17-piece band (13 horn section) also featured guest solo clarinetist, Ross Woolridge, and superb singers, Cal Dodd and Michelle Doyle, into their mix. And as much as I did enjoy the nostalgic renditions of covers such as "On the Street Where You Live," Smith tunes such as the torchy "Take My Hand" and "My Reason Why" are as classic, somtimes even more so, as any cover song in the Big Steam Band's repertoire. Singer Cal Dodd was a big part of the classy, jazz magic of this performance. His stage presence was relaxed and confident, and although he almost appeared nonchalant about his performance, his phrasing was precise. He sang the evening's most memorable songs and performed a number of Sinatra covers including "I've Got the World on a String" and "Come Fly With Me." Dodd's voice is a perfect fit for covering Sinatra tunes, and yet, this is only a scratch on the surface of Dodd's vocal virtuosity. For it was in the more difficult pieces written by Smith that Dodd played his voice like an instrument, such as the spicey salsa song "Rosealea" and the quieter torch tune, "This House."
Jazz singer Michelle Doyle is an upcoming talent who performed "Teach Me Tonight" and a Smith original, the exotic jazz tune "Blue Gardenia." Doyle's sultry vocal talent was matched only by her stunning appearance. Although she didn't have the bravura of Dodd's more seasoned performance, it's visibly simmering just under the surface. Watch out world—this is going to be one career to watch when Doyle realizes she owns the stage. Smith has helped launch other Canadian jazz divas before and began the Big Steam Band in the mid-80s with singers Holly Cole and Louise Pitre.
Whitney Smith Big Steam Band gave a high-energy jazz concert that featured timeless classics and some great new finds in jazz written by Smith. Backed by the 17-piece Big Steam Band, the sound was punchy and exhilarating in its breadth of interpretation.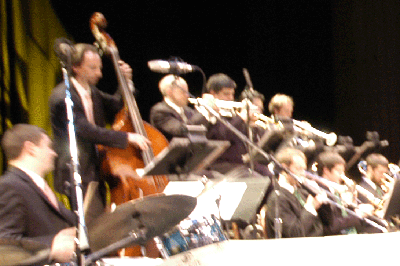 "How many big bands play original music and employ singers? The Steamers do, and bandleader Smith, who plays guitar for the outfit, has moved into the songwriting mode with a v
engeance here, penning lyrics for seven of 11 compositions ... Handling vocals are up-and-comers Deekaye Ibomeka and Michelle Doyle while arrangers include bandsmen, notably Andrew Jones. All the instrumental pieces work well, Bernie Senensky positively bubbling on the opening "Jaguar Dance" and the ensemble drives hard on other smart cuts like "Rhythm Pills & Spare Change" and "Steam Engine." Senensky and trumpeter Jake Wilkinson frequently solo, and trombonist Gord Myers is particularly fluent on "Pot of Tears." Swinging songs with words work, especially "Let's Pretend It's Love" with Ibomeka's big voice just right and "I Will Not Love" … an easy swinger [sung by Doyle]."
- Geoff Chapman, Toronto Star, Dec. 16, 2004
"Either Whitney Smith suffers from acute separation anxiety or he hasn't the heart to fire anyone. With eight brass players, five saxes, four holding down the rhythm section and a couple of singers, I imagine it takes hours to settle who sits shotgun on the band bus. The music is big-band swing in the Basie and Ellington tradition, with a little Latin jazz and R&B thrown in for good measure, yet it has enough twists and tempo changes to make it somewhat contemporary. The jury is still out on whether Smith has come up with a solution to a problem that never existed, but if you're hankering for some of that old-time music, you won't be disappointed."
- Brent Raynor, NOW Magazine, Dec. 16, 2004
"A powerhouse band!"
- All About JAZZ, December issue, 2004
"A band that's a cross between the jazz orchestras of Count Basie and Dave Holland - with a bit of Tom Waits thrown into the mix. Bandleader and composer/lyricist Whitney Smith describes the Big Steam Band's recent transition: "Once we stepped out of playing our roots music (late 50s rat-pack swing) and started playing our own music, people started to take more notice. The new album is about exploring how far a big band can push the envelope without departing completely from those roots." The album features two up-and-coming vocalists, Michelle Doyle and Deekaye and Ibomeka, who handle the swing, samba, bossa, and Celtic jazz styles with ease. Fine solo work is heard by Jake Wilkinson on trumpet, Andy Ballantyne on alto and soprano sax, and pianist Bernie Senensky. Joel Haynes is on drums."
- Toronto.com, Dec. 16, 2004

OTHER TESTIMONIALS
"In an age where everything is compressed — data, time, music, Love — the Big Steam Band offers a rare expansive experience. The songs, fresh from Whitney Smith's ever-searching imagination, are such an undiscovered country, even the singers can't quite believe where they're taking them."
- Brian D. Johnson, writer, broadcaster
"The Whitney Smith Big Steam Band ranks with the best I have seen over the last 60 years, including Dorsey, Basie, Ellington and even the Miller Airforce Band WW II."
- Russ Fletcher, Oakville, Ontario
"A great show!"
- Jeff Breithaupt, Music Officer, Canadian Consulate, New York, Dec. 4, 2004 at the Graduate Centre, City University of New York.