BAND HISTORY
The first incarnation of the band was the Steam Band, a 10-piece unit that played its first dance at the Wards Island Clubhouse on Toronto Island in 1978. A few months later the band played the last big dance in the Crystal Ballroom of King Edward Hotel, a Toronto landmark.
The Big Steam Band started as a rehearsal band in 1984 with founding members, Dave Cooper, George DiCosmo, Blair Drawson, Anita Levin and Jeff Mandel and two years later the band performed a series of engagements at the Stage Door Café. The band's first singer was Louise Pitre, a seasoned musical theatre performer in Ontario and Quebec. When Louise went on the road she was replaced by Holly Cole. It was at a performance of the Big Steam Band at the Salon Theatre in Queen Street West that pianist Aaron Davis was first introduced to Holly's singing. Soon after they were joined by bassist Dave Piltch to form the Holly Cole trio.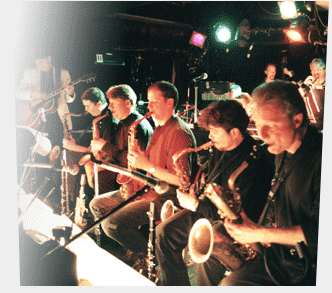 In the late 80's Smith became increasingly involved in art projects, especially the magazine, the Journal of Wild Culture, and the band was retired. Following his work on various arts and activism projects in the 90s, he decided to resurrect it in 1998. "I missed playing with the big band all those years, so I thought I'd give it a try to see if I'd like doing it, and if it interested the players."
At a series of performance at the Bar Italia in Toronto, the new band was launched featuring singers Alex Pangman, Janice Hagan, Andrea Kuzmich and Daisy DeBolt. The response was positive from section leaders, trumpeter Steve Crowe, trombonist Colin Murray and saxophonist Andy Ballantyne, all who are still with the band.
In 1999 the band produced its first CD, "Swing's Mistress," featuring the vocals of Andrea Kuzmich, released by Community Records. The album included three compositions by Whitney Smith.
In 2000, distinguished Toronto singer Cal Dodd began to appear regularly with the band. Since then the band has worked to develop its current repertoire of Whitney Smith songs and instrumentals compositions.
The Head Arrangers of the Big Steam Band are Andrew Jones (BSB, trombone) and Jake Wilkinson (BSB, trumpet; www.jakewilkinson.com). Other arrangements are by Jim McGrath, Jason Logue, Andy Ballantyne (BSB, alto sax), Terry Promane and John MacLeod. (To purchase Big Steam Band scores and parts click on Scores & Parts.)
Michelle Doyle joined the band in 2003 as female vocalist until 2007.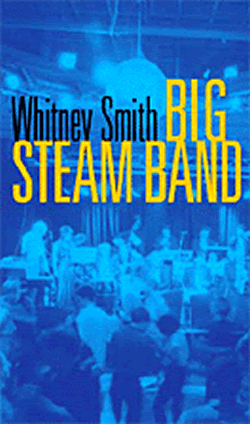 Thank you to all the players and fans who have contributed to the life of the band over the years.

To hear some samples of the Big Steam Band's music, click here.
For fee information and availability please contact us.

BAND PERSONNEL

Trumpets: Steve Crowe (lead), John McLeod, Sandy Barter, Jake Wilkinson.

Trombones: Gord Myers (lead), Andrew Jones, Jamie Stager, Colin Murray (bass trombone).

Saxophones: Andy Ballantyne (lead alto, soprano, flute); Bob Brough (alto, clarinet, flute); Scott Marshall (tenor, clarinet); Brendan Cassidy (tenor, clarinet); Simon Wallis (baritone, bass clarinet).

Piano: Bernie Senensky. Guitars: Whitney Smith. Double bass: Mark Cashion. Drums: Joel Haynes.

Percussion: Dick Smith.

(This list may or may not pertain to the band members available at the time of booking.)